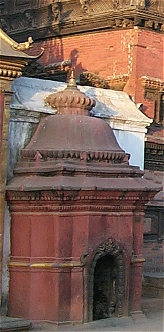 Gate in Bhaktapur
A royal Nepalese meal
The Dwarika hotel where we stayed contains the Krishna Arpan (Offering to Krishna) restaurant, where guests can enjoy traditional Nepalese food in style. The ceremony began with removing our shoes and washing our hands in rose petal scented water. We were then led to a low table by a waitress in one of the traditional Nepalese costumes - women in Kathmandu usually wear a sari or salwar kameez but in the mountains a long thick skirt is often worn with a colourful striped apron, a bodice, and complicated headgear. We had just succeeded in making ourselves almost comfortable in a cross-legged position on the low chairs, when the waitress returned to present us with our individual menu and to attach a large apron around our necks and waists. Our meal really began with a plate of light snacks which we were told are usually used in religious ceremonies - something like rice crispies with peanuts and some raw vegetables. Before we could eat, we were supposed to offer some of this to Krishna by placing it into the little leaf shaped plate that came with each place setting. By way of an aperitif the waitress poured rice wine into a little clay saucer. Actually, although she called it rice wine, it was really rice eau de vie, and as it got topped up regularly we soon learned to drink it sparingly. After our first starter we had a second, then some very Chinese style dumplings, then soup.
A pause occurred before the plat de resistance - the food of the rich, dal (lentils), bhat (rice) and several kinds of karcari (curry) with pickles and chutneys. It was our trekking staff who had explained to us that the richer the diner, the greater the number and variety of karcari. The poor make do with lentils, rice and a little curryish sauce. In fact, the food at the Krishna Arpan was very similar in style and quality to the food we had on our trek, although the presentation was much more refined.
I was already full so I had to just pick at my main dish but I loved the sweet and sour pickled fruits (something like a gooseberry). The last part of our meal consisted of a thick pancake containing seeds and covered with a rich sweet sauce, and of course, tea. By now we were so full we could hardly crawl back to our room. Nepalese food has the same basic structure as Indian food but it contains fewer spices, more herbs and definitely a lot more salt, in fact saltiness is almost the dominant flavour. We drank about two bottles of water during the meal. There is also a definite Chinese influence to some of the starters and rice. As we left we were offered the real craft speciality of Kathmandu - a decorative brick each.
Here is a copy of our menu at the Krishna Arpan, we can highly recommend both the restaurant and the hotel to anyone who is feeling extravagant:
Samaya Bajee - Assorted foods served during religious ceremonies

*****

Chyau Ko Sekwa - Marinaded & roasted mushrooms

Roti - Unleavened bread

Palungo Ko Saag - Spinach sauteed in butter

*****

Momo - Steamed meat dumplings with Silam sauce

*****

Vegetable soup

*****

Bhuja - Rice

Dal - Lentils

Aloo Semi Jarkari - Spiced potato and green beans

Pharsee Jarkari - Spiced pumpkin

Jarul Lasun Jarkari - Yam and garlic in aromatic sauce

Kukhura Ko Masu - Chicken cubes cooked with spices

Lapse Achar - Pickled Nepalese gooseberry

Golbeda Ko Achar - Tomato Pickle

******

Malpuwa Khuwa - Nepalese pancake with sweet cooked milk

*****

Tea/coffee